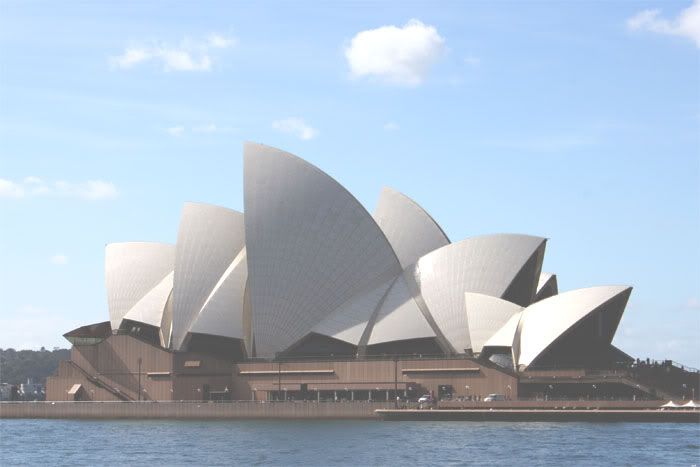 As published on Dossier Journal
This year Zimmermann celebrated 20 years in the industry. It was fitting, then, that the label landed the coveted 9am opening spot, officially launching Rosemount Australian Fashion Week. Internationally renowned for their swimwear, the label's ready-to-wear line is well regarded in Australia for being directional, yet wearable. Choosing to show offsite—like many designers this season—sisters Nicky and Simone Zimmerman presented in a bare, luminescent space that allowed for a careful inspection of their intricate paneling and laser-cut lace. Titled "Halcyon Days," which refers to a calm, idyllic past period, the white, cream, tan and dusty pastel collection had prairie themes that were contrasted with more modern looks. Fluid breezy dresses, skirts and trousers were cast with strong-collared, cap-sleeved jackets and stiff linen tops. Long, full-sleeved dresses in heavy lace were given dramatic splits while others had cutout detailing and a sense of confidence that is no doubt the result of a label that knows that after two decades it is more relevant than ever.
When the first model walked out in a sparse white dress, it was difficult to reconcile that this was an Arnsdorf show; Jade Sarita Arnott, the designer behind the label, is recognized for creating structured clothing. For the first five or so looks, everything was pure white and clean silhouettes were reminiscent of '90s Calvin Klein. There were also hints of sportswear, such as mesh tops and lightweight hooded jackets—another area Arnott had not previously explored. Just as the audience was wondering if the designer's restrained aesthetic also meant a lack of color, a model appeared in creamy mint shorts and a matching top. Next came neon pink silk jackets and tapered trousers, draped dresses with an orange, purple and pink tie-dye effect and neutral-hued dresses with glowing green stripes.
With slick aesthetics ruling the first few shows, it was nice to see Gail Sorronda embracing voluminous silhouettes. Designer Gail Reid takes a conceptual approach, her designs bordering on costume. Using only white and black fabrics, her show was a dramatic display of bulbous dresses with contrasting Gothic and futuristic influences.
Additionally, Karla Spetic was about being bold. Perhaps inspired by the sunny landscape of her homeland, the Croatian-born designer embraced brights and dramatic prints. Silhouettes were uncomplicated, allowing the geometric patterns and large cutout shapes to take center stage.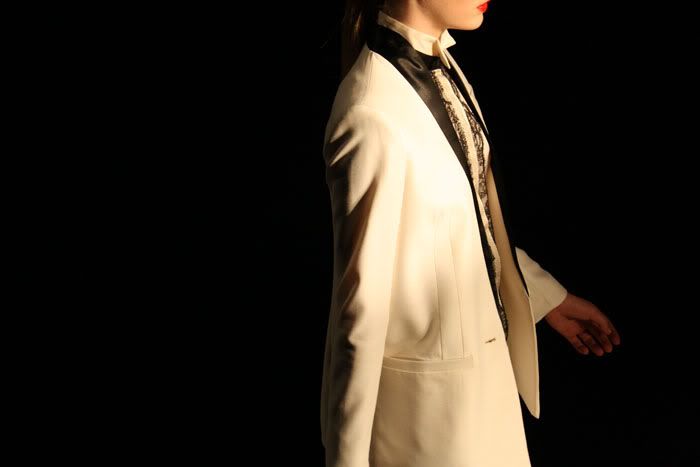 Lover
was another label celebrating an anniversary this fashion week. Staged at
the Opera House's "Studio" space, the brand's show, which marked their 10th year, was one of—if not the most—anticipated of the week. It was also the first time in five years that the label has shown in Australia.

Waiting around the bar for the show to start, one could feel a renewed energy in the air. Inside, a large digital screen was suspended above the square runway, displaying an archive of Lover's first ten years, suggested a retrospective. Working in a palette of three hues—red, black and white—Sussien Chong and Nic Brand put forth their most refined, accomplished collection to date. Inspired by the Chinese mythology of the White Serpent, the designers played with dualling masculine and feminine aesthetics; blazers were softly tailored while tuxedos had delicate lace detailing.
Showing offsite the next day, Manning Cartell aptly chose a sun-filled room to reveal a North African-themed collection. Inspired by the colors and textures of desert plains and sandstone walls, the three Manning sisters presented elegant, polished garments with hints of opulence. The designers played with different textures, using leather fringe, looping string and heavy beading, which created bold black-and-white stripes. Thick rope was tied around silk summer jackets and adorned the collars of understated floor-length dresses.
Making a debut at RAFW, Amber and Thomas strayed from their signature minimalism. By strayed, I mean briefly wandered off track and then returned. Designers Amber Hourigan and Thomas Williams generally work in a muted color palette and refrain from ornate detailing. This season, however, they incorporated a variety of bright blues, large diamond prints and suede fringe. Still, their classic shapes and long lines endured, as did the earthy tones we have seen in previous collections. The pair said they aimed to create easy, chic looks, which is just what they achieved.